"Why?"
This was a difficult question to answer.
"It doesn't work."
Rebellion.
This was 2014. My under 14s had experienced a handful of games playing with three central defenders. They did not like it. Luis van Gaal was struggling with his version of the back three at Manchester United and QPR's flirtation with the formation was a disaster (though no formation would prove successful for QPR). Later in the season I reintroduced the back three. Liverpool under Brendan Rodgers had staged a mini revival using three central midfielders and a box midfield, almost identical to the shape I had attempted to implement. This time the players were more receptive and we ended the season switching from a four man defence to a three at half time. The future of the back three looked secure.
Move forward to 2017 and the same group of players are now Under 16s. They have just enjoyed their most successful on field season playing 11v11. Goals are flowing. The defence is sound. The team is playing four at the back. There was no rebellion. No open discussion about the back three, it just quietly slipped away, off over the horizon without even a backwards glance.
Yet, their coach was still thinking about a three man defence.
I admit that it is an obsession. A back four is fantastically effective, however, I find it slightly limited. The full backs can push forward with ease but it is rare that the system allows the central defenders to push forward and if it does, is the system still a back four? When formations are that fluid the shape doesn't really matter but my inclination is that the back three automatically creates greater freedom and fluidity. Particularly while developing young players.
In my early teens my real love for football began. However I had a major disadvantage. I was rarely allowed to watch live football. I poured over magazines and books, reading about the history of football, successful teams of the past and those who broke the mould with their fluidity. Ajax and the Netherlands. Then I inherited a VCR, so I constantly watched videos of 70s and 80s football, further reinforcing a love of total football. Once the Champions League arrived and Litmanen, Overmars, Seedorf, Kluivert and co illuminated my screen my fate was sealed. A three man defence would be in my heart and soul.
The development of football at the top level has been towards fluid footballing systems. In no small part down to the work and success of managers like Josep Guardiola, Marcelo Bielsa and Jorge Sampaoli. Plus football writers like Jonathan Wilson and Jed C. Davies.
Whatever the formation on paper, the most consistently successful teams have a shape that roughly replicates a large a large diamond with interconnecting central pieces. There may be variations upon this with double side players, or a pair at the apex rather than one forward, but the essence remains the same.
The excellent passing and positioning maps of @11tegen11 further illustrate the shape.
So my team utilised a very modern 4-3-3. Attacking full backs, a holding midfielder and wide players who are just as likely to score as the central striker.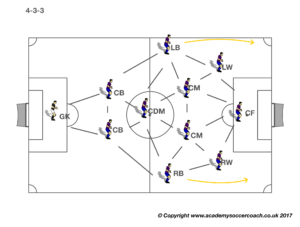 The shape was fantastic for retaining possession but occasionally would struggle to get enough players into forward areas. Many of our opponents used defences where the full backs did not push forward, which would leave our striker playing one versus four. So a second shape would be utilised.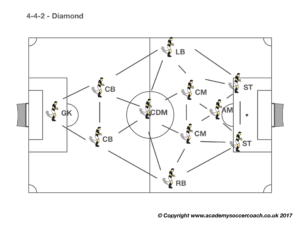 The willingness of the fullbacks to push forward allowed the team to take away two wide players and utilise two central strikers and an attacking midfielder in behind. This shape generally meant that we created more opportunities due to the extra numbers forward but the drawback was less possession and a more open game.
As the season progressed certain traits and characteristics of players started to emerge, posing a few questions. The aggressively attacking left back started to push on more and more, unsurprising as he had six goals. I described it as "goal fever". We decided on a few games as the left winger, but he wasn't comfortable there. After moving back to left back he continued to push up, leaving an ever increasing hole on his side of the pitch.
Meanwhile in midfield the player who had previously shown the inclination to protect the defence was now making more forward runs. This could have disrupted the team but another player who had previously shown playmaking traits displayed great intelligence to cover the gaps left behind. Our left winger was also tucking inside increasingly. The shape was coping but it was starting to feel unnatural. The players had each played in a handful of positions to this point meaning that there was already a degree of flexibility and versatility to each of them. What was now needed was to translate this into further fluidity.
Then during a training session the right back played in the centre defence. Something he had shied away from for quite some time due to a dislike for the position. During the session he showed a great ability to nip in front of forwards and come away with the ball. The kernel of a thought formed.
There are many different ways to play with a back three. In the Ajax version there aren't wing backs, there are just wingers with a four man midfield forming a diamond.
At Chelsea and Tottenham the Conte and Pochettino 3-4-3 use attacking full backs as wing backs, though Conte uses a converted winger at right wing back while Pochettio uses two international full backs as wing backs. It is worth noting that Danny Rose was a wide player before becoming a left back, but this is very much the way with modern full backs. When Gareth Southgate used a back three against Germany he selected full backs at wing back.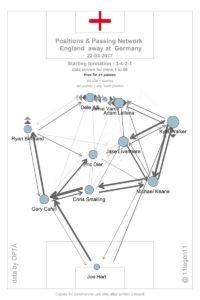 The common component of all the managers who are using a back three is that they are attempting to bring out the best of the players they have. That these players show certain attributes that should enable them to thrive within this set up. At Chelsea playing in a back three has suited David Luiz, a player who had been mocked during his first run at Chelsea. With the extra support around him his abilities have come to the fore, giving Chelsea and extra deep lying play maker, which allows their central midfielders to take up higher positions and not drop deep to take the ball from the central defenders.
I presented the case to my players.
Our left back pushing on now needs extra cover behind him.
Our right full back can be equally effective going forward from the position of right sided centre back as our central midfield has excellent awareness covering the space plus there will be two players to cover him.
Our right sided player is excellent in 1v1 situations and has excellent energy, he can thrive as a right wing back.
The previously defence minded midfielder who is now making forward runs will be able to do that with another player alongside him and extra man behind him. They will have to show awareness and communication to maintain fluidity.
As a team we can get more players in attacking positions while maintaining width and numbers in midfield. It is a relatively simple switch to play with two strikers and retain three in the centre of midfield.
Every player (who was at training) agreed. There was no rebellion. They could see that it was only a very small shift from the way the team was playing. Only with more natural cover and balance.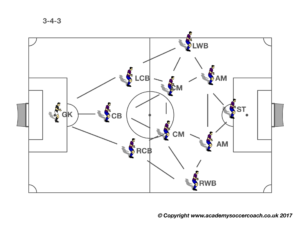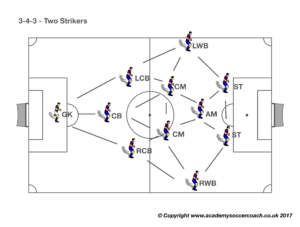 On a very basic level the game is one of diamonds and triangles. The natural areas the players take up allow the creation of a great many diamonds and triangles without significant movements. If the team is not especially fluid it should still be in good position to maintain possession. However, if the team is fluid it will be harder to retain the triangles but will create more offensive openings.
In theory.
With the league season over we were entered into a supplementary cup with teams in the division above. For the opening fixture I received word that a number of players seemingly integral to the 3-4-3 would be unavailable. I started plans for a return to 4-3-3. Training came around. The players still wanted to go for the 3-4-3. They seemed genuinely excited by the prospect. We vowed to stick with it.
In the first half the team kept the ball well but created very little. There was a simple reason for this. The player deployed as the left sided attacking midfield was doing the left central midfielder's job. They were standing on top of each other. I took him off with 15 mins of the first half to go. He moaned about the new formation. I explained the problem. He sulked for 5 minutes. At half time a shift was made, putting the aforementioned player in as a second striker with just one attacking midfielder. From there he did the attacking midfielder job I was looking for. He scored twice in the second half.
Since then we have used the 3-4-3 on a further two occasions, with positive results. The right sided central defender has created a goal with a cut back from the goal line and won a penalty following forward runs in open play. The left wing back has added another goal to his tally, tapping in a rebound. The fluidity has been good but, as with everything in sport, further work is required.
The biggest difference is that now the players want to play in this way. They are committed to a back three and so am I.
Three really is the magic number.
For more passing and positioning maps visit @11tegen11 on Twitter or Facebook.