Goals Everywhere
New England Saints hit a new apex this season. Eight players scoring more than 15 goals across all competitions. Four of those breaking 20. One surpassing 30.
During pre season not one player was signed. A big squad did not additions. It needed subtractions.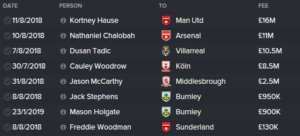 Time up for Kortney Hause, Nathanial Chalobah and Cauley Woodrow. They had not convinced me that they would make it into the first team. Woodrow moving to Koln was interesting and he would have a good season.

Chalobah and Hause got moves to big clubs. For one it would be a great success for the other his Saints career would just be repeated in a different setting.
Chalobah

A very solid campaign with Arsenal.
Hause

Hause actually played less for United than he did for Saints.
The sale of these young players was a signal of intent. After three seasons the players from the England summer of 2017 had their opportunities. Decisions were being made.
There is one exception on the list of sales. Dusan Tadic. The form of Onomah and the promotion of Maitland-Niles into the first team squad made Tadic the odd man out. Club captain or not, no one stands in the way of progress.
This transfer preamble may not appear to have any relation to the goals that Saints scored. It relates to the key element of this whole story. Opportunity.
Jack Grealish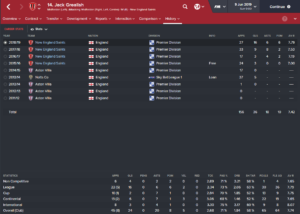 In the previous season Grealish made more appearances. That campaign he played 59 times with 41 starts. This season he started more games but more importantly he was the first choice wide on the left. He was not shuffled from side to side he had a position and it yielded 24 goals and 20 assists.
Natahan Redmond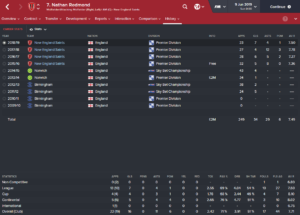 Redmond's season was one that started really brightly but faded away. He suffered an injury around January which knocked him off the rails. From that point on Redmond only managed 4 more appearances. Despite this he made more appearances, started more games and scored more goals than the previous campaign.
Jay Rodriguez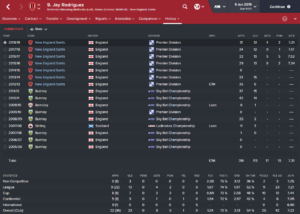 Since the first season no one's role has changed as much as Jay Rodriguez. In the first season he was the redemption song. The player who forced his way in and became the star forward. The following season my hopes were pinned to him but he was marred by a terrible goal drought. Since then he has moved to the ultimate back up player. His ability to play right side, left side, attacking midfield and striker makes him invaluable as a rotation player and as substitute. This season he managed 58 games which he backed up with 23 goals, including one golden streak.

Demarai Gray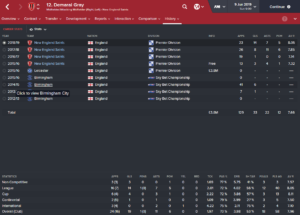 Gray's average rating tells us a real story. Almost 8 in all competitions and slightly over 8 in the Premier League. Fewer starts this season than last but that was down to the performance levels of another right sided player.
Back To His Best – Alex Oxlade-Chamberlain
Injuries are a major part of the whole story. Providing opportunities for some and way laying others. Alex Oxlade-Chamberlain had a season hit by those injuries last time out. This time, apart form a few short lay offs he was free. Free to fly.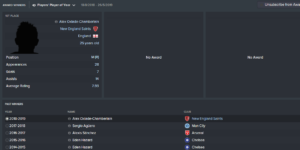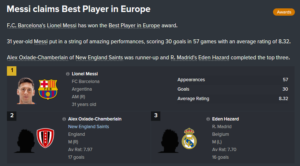 Though his mantle of "most likely to score in a big game" has been passed on his consistency and quality remained high throughout. The 21 assists for this season broke his own club record of 20.

The club leaned on him hugely in that first season, so his goal and assist numbers were inflated. Now he is another player in a very successful side, a big fish swimming with equally big fishes.
Kane vs Solanke
Two summers ago £50 million pounds was spent on Harry Kane. My expectation was that Kane would shoulder the goalscoring responsibilities, notching 20+ league goals each season and 30-40 overall.
Season 1

Season 2

He has been a disappointment. In the first campaign Kane did everything I expected of him in the league, he just had major issues in the Champions League. In the second season he suffered two long lay offs, but when his first injury struck he had played 16 league games scoring 4 goals. The struggle was there. It was only a late flurry of strikes that prevented Kane from being outscored by Jay Rodriguez as well as Jack Grealish.
Kane's injuries and lack of form created an opportunity for another player to step forward.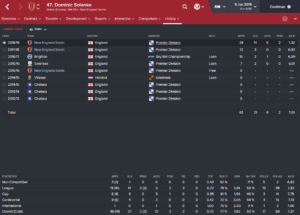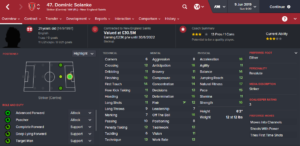 Solanke's record ended up at exactly 1 in 2 games. For a time it was considerably better than that. He didn't just score in "easy" games, grabbing important strikes against Arsenal, Spurs, Liverpool, Chelsea and a cup final goal against Manchester City.
There is nothing more exciting than seeing a young player come through. Apart from a young player who is having a prolific season AND his attributes are improving. That is the perfect blend. At 21 he expected to improve further still.

Once Kane recovered from injury it was difficult for him to get back into the side. However another injury meant that a Kane and Solanke partnership would form, but this did not seem to gel, there was not a game where they started together and both scored.
Then came the transfer rumour.

Kane's struggles and Solanke's rise are such that if PSG are in the region of £60 million and more I would seriously consider selling.
Finding suitable replacements is not so straight forward. There is one obvious choice. The best striker in the world.
Or there is the exciting Brazilian talent of Gabigol.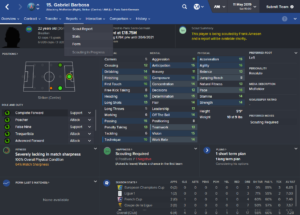 Both would undoubtedly do superbly for the team. The issue is not them. The issue is without any question me.
Taking aside general game play and the basic tenet of signing the best player for the team, I have used Dybala and Barbosa many, many times. I would prefer something fresh, someone different.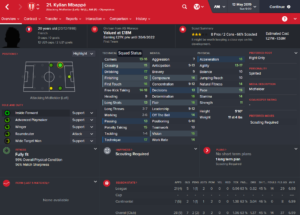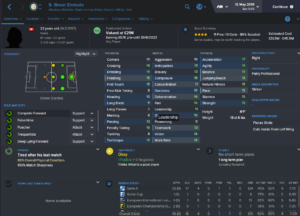 In FM 16 Mbappe is a very young winger at Monaco, not the PSG superstar we are familiar with today. He has been a squad player in some of the super teams that I have pieced together previously but not as a striker. Embolo has not featured in any of my teams before. These signing have appeal.
Then again, perhaps selling is not the right option.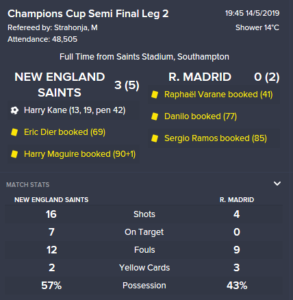 Harry Kane remains a fantastic player. For some reason he is not delivering. I will struggle to find anyone who is better.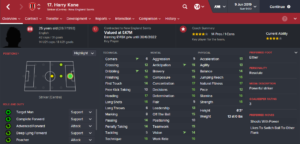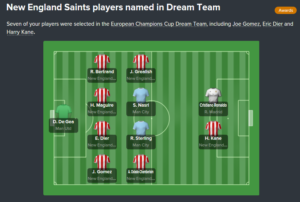 The Winner Is Vietto
Hidden behind the Kane and Solanke game within a game is the outstanding form of another striker. Signed for £20 million from Bayern Munich a month after the arrival of Harry Kane he has struck 75 times in all competitions. Vietto netted 37 times in his first season and 38 times in the second.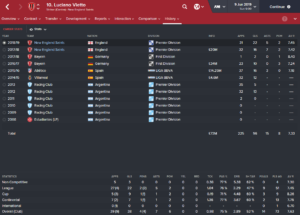 His 22 league goals scooped the top scorer award.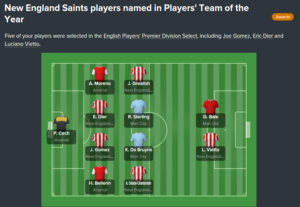 Vietto also has replaced Ox as the cup final talisman. He has netted ten cup final goals in two seasons. Five last season (including a quartet in the final when he and Martial had a battle of the goal scorers) and five this. Three of them in the FA Cup final.
While Solanke and Kane duke it out, this team would not be as successful without Vietto, the player I broke my English rules to sign.
An Unmissable Bargain 
The rules would be broken once more in the January transfer window. It was noticeable that a top class player was on the transfer list at below his market value. Listed at £20 million and at the time valued at £24 million. I did not need the player, but the lure was too great for this particular Dane. In came Christian Eriksen.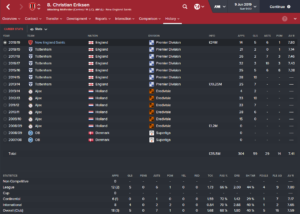 Joshua Onomah was having a very fine season. Ainsley Maitland-Niles was backing him up well. However, Eriksen is a player of huge quality. As good as I believe Onomah to be, Christian is much better in terms of technical attributes for the attacking midfield position.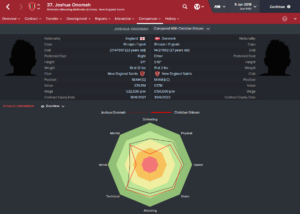 The opportunity to buy him and then sell him on for a huge profit was much too strong. He also made a significant impact in the playing side of things. At the end of the season Eriksen is valued at £37 million. Not that money is an issue at Saints, the transfer budget is over £200 million.
Eriksen was available for Europe but not the domestic cups. The first final he would miss would be the League Cup and that most familiar of foes.
The Curse Is Lifted
The nemesis slain. At my feet are the remains Manchester City and in my hands the glorious League Cup.

Of all the trophies to be thwarted by. Manchester City were my impenetrable barrier. Two defeats in the final followed by being Agueroed in the semi final second leg. This time they would not prevent us. Although their neighbours seemed like they might do.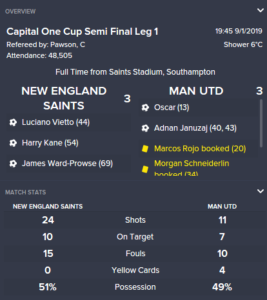 Resilience. Or in FM terms, determination.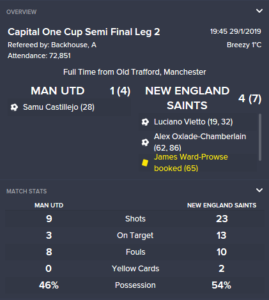 A demolition in the second leg, with the men most likely to produce going out and producing.
In the final City scored a couple of goals to make the game appear close.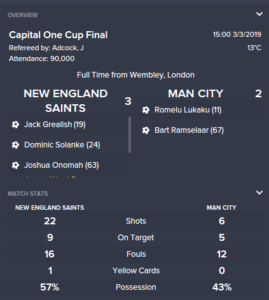 This was a win for the young English players. Onomah returning for the final and Solanke continuing his hottest of streaks.
Finally the big one was in the cabinet.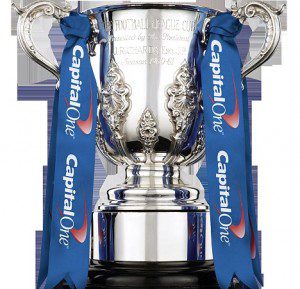 Perfectly Invincible
The trophies for winning trophies were all collected with ease during this season. An easy cruise.

The real business is in the FA Cup, Premier League and Champions League.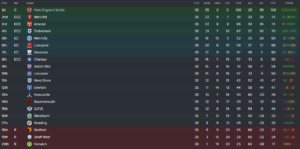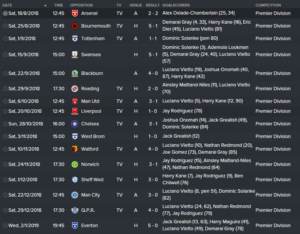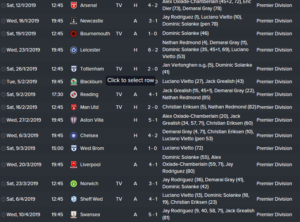 Three draws. Thirty five wins. A record points tally (but not quite a record goal tally). Convincing wins in what might be considered difficult away games in other seasons. This campaign there were no problems. Only a surprising draw at Leicester after the title had been wrapped up put an end to that particular run. Thrashings, professional victories, comeback wins, the season had the lot.
Given the mention of large amount of goals being scored it is unsurprising that so many Saints feature in the top scorers table.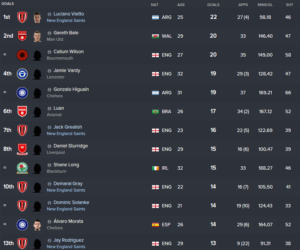 Two of the three draws came in the first three games. The team put together a run of twenty nine successive wins. It is not just about being unbeaten, you have to have the wins too. As Monaco demonstrated.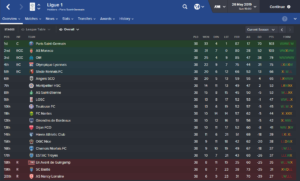 Almost perfect.
FA Cup

Vietto worked his finals magic again, after four in the final the previous season he scored three this time. It was a tough game with QPR really taking us close.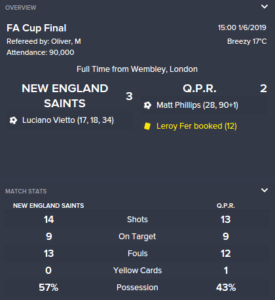 Champions League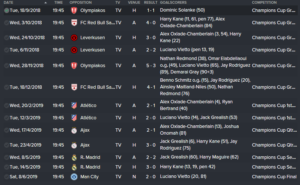 After another simple path through the group stage the knock out phase delivered big names but little challenge. Real Madrid at the Bernabeu was as competitive as one might expect. Yet come the second leg Harry Kane burst into life.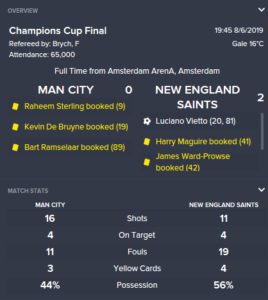 Manchester City in another final. Our first Champions League win came against City. This time we complete the hat trick. It being a final, Vietto applies the finishes.
There was one thing missing from this season.
A defeat.
The New England Saints did not lose a single game across a plethora of competitions.
Perfectly Invincible.